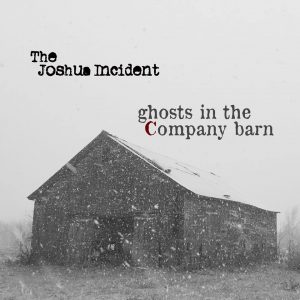 The Joshua Incident's latest album Ghosts In The Company Barn is even mellower, quieter than their previous release, Red. Yet, this Portsmouth, New Hampshire band has reached even higher artistic levels, writing and recording songs that reach the true sublime quality of genuine American folk music. Within these gentle woven musical statements and warmly crooned songs, are nuggets of truth about the human condition, especially truths about the dynamics between men and women.
Opening cut "In Your Beautiful Hour" reaches lofty heights of expression, making the listener appreciate the depth of adorability of the person this song was written for. A soft, plaintive vocal from band leader and songwriter Todd Thurlow plays out over tender expressions from a carefully picked acoustic guitar and bowing sensitive fiddle(album guest Jordan Tirrell-Wysocki). The singer's voice caresses the lyrics while coating the instruments with a supple handsomeness.
"Flying Into Glass" gets a coaxing quality from Dan Beller-McKenna's pretty pedal steel guitar, an instrument that seems to sing the melody in the backdrop. A steady acoustic guitar strum below completes the mood, keeping this one on just the tender side of bittersweet. This one manages to be, at once, as bright as the sun shimmering on the surface of the ripples and as mournful as anyone who can't escape their fate.
"Highways And Back Roads" travels a long, sad, lonely road. A fine weave of acoustic guitar, fiddle, and pedal steel, the instrumental texture creates a forlorn backdrop that compels the listener to follow along. You just can't resist learning what this mood is all about as Thurlow emotes vocally about the aloneness of travel, especially as it reminds one of someone who got on the road to leave him.
"Exit 4" is a compassionate song, offering help to someone lost in a period of despair and hurt. Thurlow's plaintive voice fits this song even more perfectly than the others on this disc. He milks the despairing lyrics for all their worth, offering the listener true depth of feeling and the situation it stems from. Forlorn tones coming from his acoustic guitar and all of the other down tempo, moseying instruments here complete the scene and the mood. The listener is at a catharsis at the end when, almost magically, the pedal steel cries out the final sad notes.
"Barker Place" lurches forward with a snapping acoustic guitar thrust and a rippling rush from the pedal steel. Coated with a merciful fiddle line, this piece strikes a careful balance between loss and acceptance, with loss having a slightly stronger tug. Gritty, flinty instrumentation make one feel the burning intensity of loss and the dire circumstances around it. This could also be a fun song at a barn dance.
"Every Perfect Thing" breezes in with pretty rustic coloring, a touch of pedal steel moving in the backdrop, a slight pick of acoustic guitar up front. Romantic passion, even in this down tempo musing, abounds in the lyrical descriptions of how much the songwriter cannot wait to couple up with his beloved unrequited love. Unrequited love hasn't sounded this good since a certain Grand Funk Railroad song in the early 1970s or maybe an early 1980s Tom Petty rocker.. The Joshua Incident keep the strength of the spark glowing with meaningful melodic touches, notes that echo in the heart long after the note is picked. Listen carefully to John "Hal" Halstead's acoustic bass and it feels like a special presence ushering the tune along.
"Brass, Brown, and Blonde" travels a rustic path with a slight country flavor. Its pedal steel melody takes its influence from Nashville, a sweetness inside the twang. Hearing that melody move around like it's greased up and in a frying pan is a treat for the ears. A rippling strum of acoustic guitar notes too sounds like it was created south of the Mason Dixon line, a sound that hearkens back to an earlier time in American music. Thurlow's warm croon indicates his enthusiasm for the lady the song is about. His vocal moves out in wide, sweeping arcs, giving this song plenty of motion, a feeling that he's taking the listener somewhere.
"Keep You From The Cold" blends a lonesome fiddle melody with understated acoustic guitar picking and a rangy pedal steel. Amidst that moody atmosphere, Thurlow sings in his pleasantly sublime manner. His voice hovers over the soundscape, creating a second layer of emotion, giving the song even more grit.
The Joshua Incident closed out with a reprise of "In Your Beautiful Hour," a summing up all of the fine acoustic instrument work and the subtle vocal appearances, like departing member Ann Norton's harmonies, that make this album likable and winsome. This Ghosts In The Company Barn disc will likely get a good amount of air play on local folk radio shows and The Joshua Incident will gain even greater visibility and name recognition with new member Lindsay O'Neill on board. They've reached a higher level of artistic expression while maintaining themselves as listenable to just about any music fan.
Here's a review of Red!: 
http://www.billcopelandmusicnews.com/2015/05/the-joshua-incident-master-folk-music-idioms-and-literary-lyrics-on-debut-album-red/
Browse: Home / 2015 / May / The Joshua Incident master folk music idioms and literary lyrics on debut album Red
The Joshua Incident master folk music idioms and literary lyrics on debut album Red
By Bill Copeland on May 14, 2015
JoshuaIncidentCoverArtRedFans of acoustic, roots, and folk music won't be able to get enough of The Joshua Incident's debut album, Red. Natural acoustic instruments provide plenty of gritty picking styles, tender melodies, and atmospheric moods while lush, full vocal harmonies carrying one away like a magic carpet ride.
The Portsmouth, New Hampshire quartet open this album with "Hanging Tree," which features one of the grittiest, most tender pedal steel melodies this side of the Mississippi. Singer Ann Norton and guitarist Todd Thurlow perform this duet with voices that blend better than peanut butter and jelly. Norton's high, pretty vocal emotes the sorrow of this tune while Thurlow's warm husk keeps it earthy and real, grounded in his somewhat lower register. Thurlow, who writes all of the songs, presents lyrical imagery that buttresses the serious tone of this number. One can feel the final anxiety of the condemned man as he nears the hanging tree, which seems to be staring right back at him.
"Our Own Highway Song" follows a mellow path as it offers an introspection on traveling across the country on a road trip. It is also a touching testament to the relationship between two travelers, indicating how content they are together throughout their long, long drive. Tender bits of acoustic guitar notes form a solid stillness, setting the scene as they contemplate images and impressions along their journey. An undercurrent of pedal steel emotes on a sublime level, further hinting at the depth of the connection between the two travelers. Norton and Thurlow sing with a seriousness of purpose as they take it down tempo, sharing the lyrics as much as singing them.
"Elizabeth" gets a bit of a country music flavoring from some twang in Dan Beller-McKenna's persistently pretty and tender pedal steel melodic line. One could almost swing dance to the twists and turns in his notes. Meanwhile, the voices here take their turns in a gentlemanly and ladylike manner, courteous, shifting politely from Thurlow's low smooth timbre to Norton's higher, pretty, girlish playfulness. An acoustic guitar strum from Thurlow and a gentle bass push from John "Hal" Halstead's upright give this whole thing a pleasant pulse.
"Glass Jar" is a perfect metaphor for the frustration of being in a relationship with an unhappy, weak person. One loves out of compassion and duty while also wishing to be away, away from the anchor of gloom and misery one unwittingly got attached to. Musically, the band completes the emotional picture. The voices sing in a tender vocal application, milking the emotion in each verse without ever overplaying them. Thurlow's husky, homey drawl infuses the lyrics with another layer of emotion. All the while, Beller-McKenna's pedal steel practically sings it own melodic joys, bittersweet, committed, forlorn. This song does a wonderful job of expressing mixed emotions while remaining a darn good folk song.
"Time And Space" loads its mid-tempo cruise with lots of grit from the instrumentalists. Guest banjo player Keith Hillyard, Thurlow, and Beller-McKenna offer up plenty of acoustic kernels, each note percolating and weaving into a running tapestry that makes the listener feel the vast amount of time that a relationship took up. The voices sing at a perky pace, which belies the seriousness of loss and heartache, all while the instrumentation wraps it in the perfect sentiment.
"Past Perfect" is a lyrically deep song. While it is clearly about a moment in time, when a relationship was wonderful, intimate, "Past Perfect" conjures many feelings and images of loss. Lyrics like "Remembering the sweetest wine/Stolen like a kiss" conjures a notion of an entire relationship being like a stolen kiss, something one couldn't have without briefly snatching it up. The somber delivery of the words, slow, wistful, accompanied by a lonesome acoustic guitar letting its feelings show in halted unveilings, turn this tune into something a listener cannot ignore but is rather compelled to follow carefully.
The wittily titled "Passed Out As Quickly As I Could," finds Thurlow contemplating a past love that was once picture perfect. He cannot face the loss he is suddenly forced to reckon with, so he drinks himself unconscious. The somber reality, reverie turned nightmare, comes to vivid life on the strength of a lonely pedal steel melody. Its bittersweet melodic phrase speaks volumes of its own while Thurlow's handsome low tenor contrasts well with its considerately paced croon.
Title track "Red" centers around a tragic automobile accident that took place in Thurlow's youth. A young man that liked to zip around in his vehicle may have missed a curve, or missed something, and didn't survive. The musicians and vocalists present this in a quiet, reflective mood. The singers practically drawl out the lyrical images, the wreck, black streaks on the pavement, a friend becoming a memory. They certainly make you fee it as they carefully unfurl this tale of youthful zeal turned to doom, destruction, and great personal loss.
"Quiet And Discontent" is a dandy of a wistful tune. The singer cannot keep the girl of his dreams in one place for too long. Yet, what he does get out of the relationship still has meaning and significance. Fleeting moments of companionship inspire a heart full of feeling. Well considered harmony vocals put plenty of emphasis on the ambiguous joy of this song. It certainly doesn't hurt to have a pedal steel player like Beller-McKenna pressing out the sublime meaning of the tune with his emotive melodic line, one that travels around free as bird, emitting its quiet beauty on an artful level.
Heading back into country flavorings, "Thimble Full Of Happiness" features the pedal steel treading old time timbres and tones. The vocals have a touch of honky tonk that adds beautifully to the atmosphere of this ode to a wrecked, ruined relationship. There is also plenty of wit: "When you told me to stuff it/I took it literally/Now your suitcase sits on my front porch/With that damned Christmas tree." The bouncy, almost jaunty pace of this number also makes it a fun, toe-tapping number. One can picture this couple arguing back and forth inside a trailer.
The folk quartet move on to the quiet, understated "December Girl." Images of winter time, holidays, and loss commingle with tender vocals and a forlorn pedal steel melody. The Joshua Incident, again, create the perfect atmosphere and mood for their message. One cannot help but feel what the lyricist must have been feeling when he wrote this.
The Joshua Incident close out their beautiful album with the wistful "Tinderbox." The pedal steel drawls the main melody line with a haunted, sorrowful mourning quality. Thatched with acoustic guitar strums and an understated bass line, the music wraps warmly and tenderly around the vocals. Here, the male and female voices conjure the sadness that threatens to explode in an "acetylene wind." The entire band do a marvelous job conjuring the sense of having a harrowing encounter with a fate that will leave someone with mighty disappointment and heartache.
The Joshua Incident have created with this Red album an impressive, interesting, and wholly realized document of all they have to offer their listeners. Its offering of honest to goodness folk music idioms and traditions and literary lyrics can transport their listeners to other places and times in American history. Moreover, it is refreshing to hear such good music created organically with acoustic instruments and voices. It also helps to have a universal quality to their songs. "Hanging Tree," for example, could probably become a hit among fans of folk, rock and roll, pop, and singer-songwriters. One can only hope their next album comes out soon.
www.thejoshuaincident.com
Here is a link to our evening with Kate McNally, appearing on "The Folk Show" on New Hampshire Public Radio: http://nhpr.org/post/studio-performance-joshua-incident
To Listen to our April 3, 2015 performance at WUNH in Durham, click on the following link:  https://913wunhdurham.wordpress.com/2015/04/06/seacoast-live-with-the-joshua-incident/
Our own highway song
Hanging Tree
Passed Out as Quick as I Could
Quiet and Discontent
Red
Hanging Tree
Elizabeth